8/7/2013
This past week Mitchie accomplished another first as he appeared as a guest on Conan.
See for yourself the hilarity that ensued...
5/15/2013
Geared up from the floor up.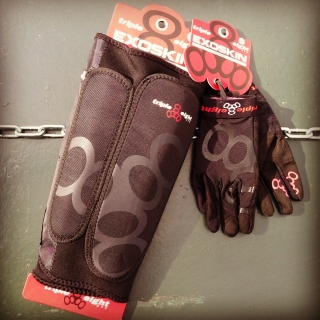 In our eternal quest to keep all of our customers protected in style, we're stoked to announce the expansion of our bike line to include 2 new family members, the Exoskin Shin & Whip Guard & the Exoskin Gloves. Both of these products provide optimal protection without compromising comfort or style.
In addition, we're very proud to release the first ever Longboarder signature pro-model helmet for Patrick Switzer. This Dual Certified Brainsaver comes in his signature orange color and features original artwork designed specifically for P-Swiss.
Get yer grubby little hands on em now while they're hot.
3/12/2013
Store name: BOARDLife
Location: Denver Colorado
Date Opened: November of 2011
Website: www.boardlifeusa.com
Sports catered to: Longboarding and Cruiser bikes
Size: The shop is 1500 square feet
Best selling Triple 8 Product: Half shell helmets
#1 Growth trend: Building your own board with us is the best selling item in the shop. Other than that the Boards and Protective gear can't stay on the shelves
Other: Deck It Out is a unique thing that we do at our shop. This is an area of the shop that anyone can design and build their own longboard. We have many different shapes and styles of longboards on the wall to choose from as well as wheels, trucks, bearings, grip tape so that the finished product is one of a kind. We also offer laser engraving of the deck so you can personalize the top or bottom with any image that you can think up.
Q&A

Justin Rimbert: When did BoardLife open for business?

Michael Pisarcik - The Board Life: We opened November 2011

JR: How many employees do you currently have?

Michael Pisarcik: We have 3 employees not including my partner John and me.

JR: What differentiates BoardLife from all the other skateboard stores?

Michael Pisarcik: The biggest differentiator of our shop from any other is Deck It Out. Deck it Out is how and where you can build your own board and totally personalize it. We allow kids and adults to choose from a huge selection of wheels, trucks, boards and everything thing else to make their custom ride starting at just $150.00. We also have a laser engraving machine to add one of a kind designs to the top and bottom. You can see examples of our more detailed work here


JR: Custom rides? Sick... What prompted the idea for this unique interaction with the customer? Or was the goal to create an experience in store that the customer wouldn't be able to replicate elsewhere?

Michael Pisarcik : The custom and personalized decks that are built through Deck It Out are truly unique and offers rider/skater the chance to create a one-of-a-kind ride and a true experience. When we were initially formulating the shop idea and vibe we wanted to make sure we were bringing something new and innovative to the market and industry. The discussion started with John's two sons (now 9 and 12) and it was difficult to find boards that were both cost and performance effective for his young sons who were 8 and 10 at the time. The boards that were on the market always had challenges for young riders. The decks on the market were too shaped for their smaller feet, set up for larger heavier riders or just too expensive. Our answer was to create Deck it Out. Our base selection package in Deck It Out includes decks for any size rider and includes decks for small, light and younger riders. We also picked a base selection of wheels and trucks that will suit smaller riders but also allows new bigger riders great selections as well. With Deck it Out the customer chooses equipment and colors that speaks to their sense of style and style of skating. It doesn't stop their, the customer can also chose to laser etch a multitude of designs on their deck for a truly unique ride. Pick your favorite animal represent your favorite sport we can put any image along with the customers name on their board in a matter of minutes. Finally, builders chose their grip from many choices including our unique colored grip stickers to add that final flare to their board. We have in the short year we been open, built well over 500 boards. Through the process of building we focus on educating and instructing the rider on their board in every way, from breaking it in to maintenance. We also make sure every board we send out the door as a complete is set up for that rider to ensure the best and safest skating experience. We have made a shop experience that is educational, fun and most of all welcoming to every rider new and seasoned. It truly is a unique and awesome experience here at BOARDLife.


JR: Gnarliest thing you have seen happen within the walls of your shop?

Michael Pisarcik : We try and keep a fun and mellow vibe in the shop, so gnar here is relative. We just rebuilt/restored/Decked Out an 18" complete for an 18 month old boy named camden. Super GNARLY!

JR: What is your favorite thing going on in skateboarding right now?

Michael Pisarcik : The coming together of longboard and shortboard cultures. The innovations in products and their designs that are born from that mix are awesome.

JR: Most common phrase you hear in your shop?
Michael Pisarcik : Out of state customers asking: When are you opening a store near me!


More Posts:
2013
2012
2011
2010
2009
2008