4/28/2014
Visayan Longboarding Trilogy, Philippines
Some adventures must be shared. This one will be about magnos, coconuts, sunshine and people with big hearts. Other than Japan, I hadn't been to Asia yet. I figured it was going to be different, just not quite by how much. But so much for the start, we lived a good, simple hammock life and the only first world luxury I couldn't give up on was toilet paper. Off to the Visayan Longboarding Trilogy 2014!
Drift Wood Local Enterprise prepared us for the trip after Pat and I arrived in Cebu city. We got the "Baby Maker Hammock No1" an extra large NorAm couple sized Hammock, without the recipe of how to sleep comfortably in such a thing. It took us a few tropical nights to succeed. The next morning, we built our motorcycle trailer with two bicycle wheels, a welded piece of metal that was going to be the rear axle, three bamboo sticks and some recycled tires. I learned quickly that nothing went to waste in the Philippines.
The city is hot, dirty and loud and we agreed on leaving as soon as possible! When the trailer was packed and the worst evening traffic was over, we left towards Oslob. Dandoy, Pantoy and Mica travelled on one bike, Pat and I had a second one. And when the back tire of our motorcycle blew up under the heavy load in the middle of the night I was sure, we were going to sleep by the road that night. I was terribly wrong, as it took Dandoy max 20 minutes to fix the issue and we were back on the road!
Oslob was going to be the second VLT leg, our Super Mango Skate Clinic and we had quite some preparations ahead of us.
We rolled into a driveway right by the ocean. Went to the other side of the simple little house and stood right at a beach where we hung our BM Hammock for the night. What a view to wake up to! While soaking in a clear, blue shallow ocean, Dandoy explains us that him and his friends used to hang the hammocks in an abandoned house one lot over. One day they wanted to cook something and needed to borrow a pot. That's when they met the lady that I only know as Nanay. Everybodies grandma. She was living alone when Dandoy first met her and explained that she'd rather have company around. All too good that Nanay comes with a (non electric) sawing machine, a beach with big trees, the love for cooking and direct access to one of the best roads I've skated in the world.
The first VLT 2014 leg happens in Siquijor.
The two- day event on the tiny island starts with a little Maryhill and goes on to a little Catalina Island. Our home is by the beach in San Juan. We hang our hammock between coconut palm trees this time. A fresh water stream just on the other side of the camp teaches us the appreciation for fresh water. If you need to fix your motorcycle, you are right at the end of the stream before it goes in the ocean. One above is doing the laundry followed by brushing teeth and taking a shower.
The event started slowly. The tropical heat made it almost impossible to skate between 11am and 3pm. People were relaxed about it things not moving quickly. We all had enough to enjoy! The Cambugahay waterfalls were near, and a little pond with fish that nibble on your feet should be standard for skate events. The road was comfortable to get my spring skating started, Maryhill but a bit shorter and less banked. After the second day on a little Catalina our journey took us back to Oslob for the second VLT leg.
The Super Mango Skate Clinic!
This event came together after last year's spontaneous clinic hosted by Patrick Switzer was so successful that it asked for a repetition. The 7km long mountain road connects the east and west side of the island Cebu.
It is quite the challenge to organise an event in a country that you don't know the language, the way people deal with schedules and tasks being given. We had our local crew translating when ever English was not helping anymore and I wonder how, but when the first day started at 5:30am with tree planting, people were up and ready! This is the place for a huge shout out to everybody that helped making those three days a successful & happy skate time! Thanks to all the participants! Thanks to all the guys from the datan- crew, the local and international riders taking the part of being instructors and all the helping hands that were there when we needed them! As well a very big thank you to our sponsors that generously supported us! Orangatang Wheels, Loaded Boards, Rayne Longboards, Triple8, Vicious Grip, Holesom Pucks, ­RipTide bushings.
After the first day we saw open knees, road rash, bruises… and a lot of smiles! During the hottest times of the day we did an "ambassador training" based on a workshop that was held at Loaded and Orangatang for their team riders a few years ago. The idea is not to make skaters better skaters only, but to educate skateboarders to become good ambassadors for the sport who walk through life with awareness, open minds and open hearts. The second part of that was how to create your own little event, giving inputs as to who to talk to, communication training and giving the idea to start with weekly sessions in your local community. It was great to get the riders participate in a conversations, to exchange stories and hear all the good ideas.
As for the riding, the first day Maga McWhinnie, Gemma Holland and myself offered a ladies only group. I wanted to give them the possibility to get comfortable but as well I was clear about the importance to ride with everybody, so the second and third day, we mixed the ladies in with the gentlemen.
By the end of the third day, people were so tired that many stopped early. And before we got to leave the hill, the rain started!
A little side story: for the three days we gave out a mango every morning before splitting up in small groups. We ate 90kg of mangos!
The third leg: WQS Duljug Dunamjug
There was only a little bit of time to eat more mangos, coconuts and soak in the ocean before we had to load our trailer again and roll north to Dumanjug. The little mountain town was the first place we couldn't jump in the ocean every day but the road looked like a lot of fun again! Another mini Maryhill with maybe a little bit of slowing down for one or two corners. I was excited to skate fast… not really to wear the cow though. And I had ignored that it was going to be a race. It seems wrong to race in the Philippines. The people are caring and supporting each other so much that it seemed really weird to have a competition. In Whistler there is usually a bear, in South Africa it's the baboons… now in the Philippines you get a surprising mix of chicken with babies, roosters and an unknown numbers of dogs…
Freeriding was fun and it was really nice to be going faster again! The challenge was to stay hydrated in the heat and the leather suit. Maybe I was crying about the heat too much. Heavy tropical rain woke us up that morning. We were under a roof but it rained pretty much sideways. Time to wake up.
Pat and I had qualified first so I was excited for the race!
In the het of the moment I was hoping the race wouldn't happen. Lame but true. We went down to check out what was happening and yes, IDF decided to run the show in the tropical downpour so we went with it.
Of course I learned my lesson once more: ALWAYS bring your rain wheels. Pat and I didn't. But we brought a Swiss army knife and people in the Philippines are masters of improvising so we had rain wheels in no time. Unfortunately, what was a fairly big field of ladies shrunk due to accidents and the bad weather but it was great to race the finals with my dear friend Ayumi, Gemma and Kara! I didn't kill the chicken family that decided to cross the street right in front of me and Patrick and I finally managed to win a race together!
A very good end to a very exceptional skate adventure with good friends.
View/Post Comments (0)
8/7/2013
This past week Mitchie accomplished another first as he appeared as a guest on Conan.
See for yourself the hilarity that ensued...
5/15/2013
Geared up from the floor up.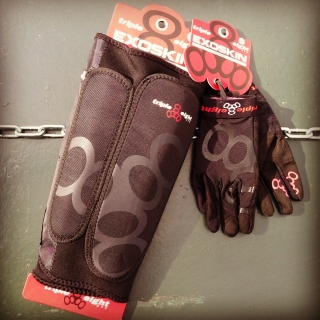 In our eternal quest to keep all of our customers protected in style, we're stoked to announce the expansion of our bike line to include 2 new family members, the Exoskin Shin & Whip Guard & the Exoskin Gloves. Both of these products provide optimal protection without compromising comfort or style.
In addition, we're very proud to release the first ever Longboarder signature pro-model helmet for Patrick Switzer. This Dual Certified Brainsaver comes in his signature orange color and features original artwork designed specifically for P-Swiss.
Get yer grubby little hands on em now while they're hot.
More Posts:
2013
2012
2011
2010
2009
2008